SCFR rescues former SCTA Bulldog mascot
"Buster"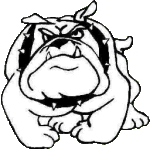 The SCFR Mascot
The Sun City Taxpayers Association, under the leadership of Marv Worthen, abandoned the Bulldog mascot that served them well for decades, deciding instead to befriend the RCSC by not coming out against the 20% increase in the PIF at the RCSC board meeting of August 27, 2009.
The Sun City Formula Registry opposed the increase and rescued the Bulldog and will only return it when the SCTA returns to its original mission of being the watchdog "protector of Sun City's pocketbook".
The SCFR is and always will be independent. A Bulldog is the perfect mascot for us. Thank you SCTA for kicking him out!
January 2010 UPDATE: SCTA's new president announced that SCTA does not want the bulldog...So, he is ours for keeps!!!
June 2014 UPDATE: SCFR changed our motto to "The Action of the Members, protecting Sun City's wallets."